If you're looking for plays or fresh, new audition material, you've come the right place! Playwright Jason Milligan is Samuel French Inc.'s foremost author of original audition material.
Jason's latest collection of original audition monologues, ALL'S WELL THAT ENDS SWELL, was recently published. To order your copy, click here or visit www.samuelfrench.com.


Jason's many stage plays have been performed in numerous productions across the United States, as well as in Canada and Europe. Thirty of them are now published by Samuel French.

For television, Jason served as co-creator (together with Mary Hanes) and Supervising Producer of the family drama HOPE ISLAND, a critically acclaimed series for PAX-TV. Other film and television work includes the screenplay for MUSEUM OF LOVE, directed by Christian Slater for Showtime for its Academy Award-winning series of original films, "Directed by."

Jason currently works as a writer for The Walt Disney Company, for whom he's written literally thousands of scripts, concepts, media events, press releases, speeches, industrials, stage shows and storytelling theater pieces for Disney theme parks and other Disney business units around the world.
---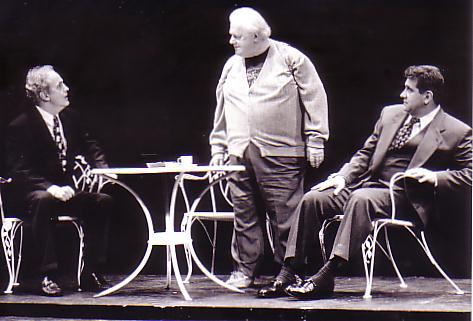 James Handy, Charles Durning and Dan Lauria in Jason Milligan's play, MEN IN SUITS. Westport Country Playhouse, Westport, Conn. Photography by Jayson Byrd.
FOR MORE INFORMATION

For inquiries regarding Jason's plays, please visit the PLAYS section of this website by clicking the tab at the top of this page. For inquiries regarding his film and television projects, please visit the FILM & TV page. If you're looking for original audition material, please visit the MONOLOGUES section.